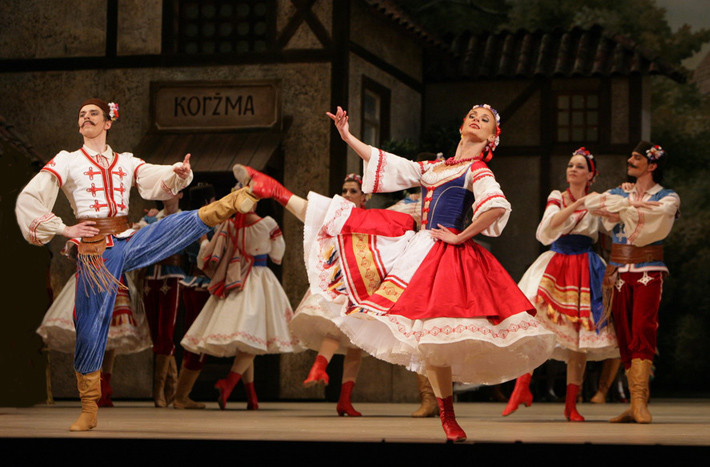 Coppelia
Tuesday
, 6:30 p.m. – 8:30 p.m.
17 October – 21 November, 2017
University of Toronto School of Continuing Studies
COURSE PLAN
1

Bring on the Dancing Girls: The Grand Imperial Russian Style

(

Le Corsaire

)
When you think "ballet", you see a regal-looking ballerina in a short tutu performing feats of virtuosity, and you owe that vision to Marius Petipa and his late-19th-century ballets.

2

In

The Winter's Tale

, hot international choreographer Christopher Wheeldon takes on Shakespeare's tale of insane jealousy and forgiveness.

3

The God of Dance

In his masterpiece

Nijinsky

John

Neumeier, the creative genius of the Hamburg Ballet, keeps the art of the story ballet alive and pays homage to a crucial figure and crucial era in the history of ballet. **For a much more in-depth look at Nijinsky and his times, please see my course about the Ballets Russes: http://toursenlair.blogspot.ca/2017/02/ballet-appreciation-course-fokine.html

4

Flames of Paris:

Alexei Ratmansky revives a Soviet-era ballet

5

Four Seasons/ Emergence/ Paz de la Jolla/ Frame by Frame

: Four short ballets in the National Ballet of Canada's season celebrate Canadian choreography and introduce Toronto audiences to ballet's current Wunderkind choreographer, New York City Ballet's Justin Peck.

6

The Girl with the Enamel Eyes

Perennial favourite

Coppélia,

with its beautiful lilting music by Léo Delibes, marks the last heyday of the French Romantic ballet.
Upcoming Tours en l'air Ballet Trips: click here
Subscribe to newsletter: click here
About Tours en l'air: click here
10 Reasons to Travel with Tours en l'air: click here
Travel Tips for Ballet Lovers: click here
FAQ: click here
Testimonials: click here
Search this site: click here
Tours en l'air Ballet Holidays
email: toursenlair@gmail.com
201 Hanson St,
Toronto, ON Canada M4C 1A7 416.693.4496
BALLET MAKES LIFE BETTER
GET MORE BALLET OUT OF LIFE WITH TOURS EN L'AIR
Tours en l'air Ballet Holidays are offered in partnership with CWT Victor Travel, TICO 1892647