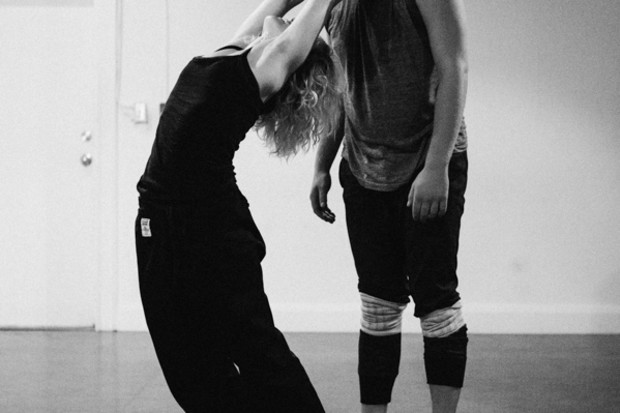 Wednesday, January 13 - Saturday January 16, 2016 @
8:00 PM
1115 Queen St. West,

Toronto

,

ON
tickets: $25 general admission, $20 student/senior/CADA/CAEA
Theatre Centre box office phone: 416 538 0988
www.theatrecentre.org
Combining choreography by Blue Ceiling dance artistic director

Lucy Rupert

and internationally renowned ballet choreographer

Peter Quanz

in his experimental, contemporary vein, Blue Ceiling's new production explores the power of the mind to produce what we need in times of great distress.
Inspired by Sir Ernest Shackleton's experience of a disembodied presence guiding him from near death on his disastrous 1914 expedition to Antarctica, dead reckoning also sources the experiences of the artists involved for a work that is utterly personal, geographic and historical.
The choreographers perform with Toronto dance dynamos Elke Schroeder and Sky Fairchild-Waller for a unforgettable romp through images, sensations, stories and exquisite physicality. Three duets flow into each other, each holding onto the residue of the last.
Search for me in the Wasteland choreographed by Peter Quanz, performed by Quanz and Rupert
Recipes for Disaster choreographed by Lucy Rupert, performed by Sky Fairchild-Waller and Elke Schroeder
At this altitude choreographed and performed by Lucy Rupert with animated light.
Blue Ceiling dance has been creating, producing, commissioning and presenting intimate works of dance and dance theatre since 2004. Under the direction of Lucy Rupert, the company aims for virtuosic performances springing from the power of the imagination. Combining historical, personal and contemporary perspectives on the spark of inspiration, Blue Ceiling works weave the myriad voices of all collaborators into each new work, for a unique, embodied performance each time. The company has travelled throughout Ontario and to New York, Montreal and Germany and has received commissions from DanceWorks, Dusk Dances, the Whole Shebang and Dance Ontario.
"Rupert is a choreographer with an immense imagination" (Globe and Mail)